Guardian First Film: nominations
Four Lions, Monsters and The Arbor are among the releases in the running for this year's debut film prize.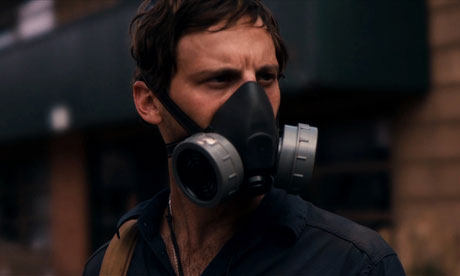 Six Brits, three Americans, and a Frenchman make up the shortlist for this year's Guardian first film award, and their work spans almost every genre imaginable. Hardcore war doco Restrepo goes head to head with puppet-festooned biopic Gainsbourg; the CGI aliens of Monsters will slug it out with the impeccably tailored grief of A Single Man. You'd be hard pushed to recognise any of the film-makers involved as beginners, so accomplished is their work. But first-timers they are, and it will be a tricky job for our panel of judges, which includes the Guardian's film critic Peter Bradshaw, last year's winner Gideon Koppel (director of Sleep Furiously), and actor Saffron Burrows – whose decision will be announced on 28 January.
dir: Clio Barnard
What the Guardian said: "Artist and film-maker Clio Barnard has experimentally and brilliantly applied the 'verbatim theatre' technique to the big screen … she has journeyed back 30 years with a movie about the late Andrea Dunbar – dramatist and author of Rita, Sue and Bob Too – who, weakened by alcoholism, died in 1990 of a brain haemorrhage aged 29. Barnard has created a modernist, compassionate biopic: a tribute to Dunbar's memory and her embattled community." Peter Bradshaw
dir: Ben Wheatley
What the Observer said: "A highly entertaining, low-budget black comedy, set in the comfortable little terrace home of middle-aged Brighton gangster Bill and his loving wife, Maggie, whose 34-year-old son Karl has just been acquitted of an unspecified crime … Very dry, very droll: Brighton Rock reworked in the style of The Royle Family." Philip French
dir: Banksy
What the Guardian said: "Street artist, situationist and public-space japester Banksy … takes his career of radical cheek into the cinema with a wacky new 'documentary'. Like many of his graffitied images, it's a kind of cinematic trompe l'oeil. Orson Welles made F for Fake; Banksy has made W for Windup. As a documentary, Exit Through the Gift Shop is as about as reliable as that house-front with the strategically placed window that falls on top of Buster Keaton. As entertainment, though, it works very well." Peter Bradshaw
dir: Chris Morris
What the Guardian said: "Chris Morris, reliably fearless and brilliant, has made a satirical black comedy about Islamic suicide bombers … [an activity] not treated with the cowed, shocked respect habitually to be found in drama or on the news, but rather cheerful scorn. This is a film in which suicide bombers are not powerful enemies to be hated and feared, but ridiculous bunglers. In the tradition of Chaplin sending up Hitler, Chris Morris depicts a movement of violent berks and prats … His film is brutally unimpressed with the moral idiocy of suicide bombing and suggests that the only sane response is derisive laughter." Peter Bradshaw
dir: Joann Sfar
What the Observer said: "[Gainsbourg] is a portrait of the French singer Serge Gainsbourg, and is an altogether bolder film than La Vie en Rose, which brought an Oscar to Marion Cotillard as Edith Piaf, though it too has a central performance, from Eric Elmosnino, that is remarkable both physically and aurally. It is an enjoyable, handsomely designed, somewhat ragged film that brings us close to Gainsbourg as a personality." Philip French
dir: Casey Affleck
What the Observer said: "Is this a genuine exercise in cinéma vérité, cruelly observing the public and private unwinding of a deeply disturbed man incapable of handling his career? Or is I'm Still Here a brilliantly sustained if embarrassing faux-documentary criticising the cult of celebrity? Suspicions were raised by the credit to Phoenix and Affleck as co-writers and producers, and now Affleck has confirmed it was a hoax. But was he out to tap our spines or tickle our funny bones?" Philip French
dir: Gareth Edwards
What the Guardian said: "This is a very postmodern sci-fi, with its downbeat approach to the monsters themselves, but with a hugely involving love story. Edwards's movie – he writes, directs, produces and creates visual effects – has also drawn explicitly on classic models. And the sequence in which Kaulder and Sam gaze at the protective great wall America has created, musing on how America looks from the outside, is a superb final gesture: mysterious, daunting and sad." Peter Bradshaw
dir: Tim Hetherington, Sebastian Junger
What the Guardian said: "The shadow of Vietnam, and the Vietnam war movie, is never far away during this outstanding fly-on-the-wall documentary about the US military experience in Afghanistan … You can't help but admire their bravery and that of Hetherington and Junger who have had to keep their nerve and keep filming … Restrepo is clearly focused on the Americans' fear and suffering, rather than the Afghans', leaving the judgment up to us. It is a scary, moving and troubling film." Peter Bradshaw
dir: Tom Ford
What the Observer said: "Christopher Isherwood was one of the great prose writers of the 20th century, a man of complexity, honesty and wit, and the fashion designer Tom Ford, making his carefully stylised directorial debut, has done an altogether admirable job … Exposed to searching closeups throughout, Colin Firth gives the performance of his career as George, and subtle gradations of colour and texture reflect and complement his changing moods. This is a self-conscious, superbly crafted, deeply felt movie." Philip French
dir: Nick Whitfield
What the Guardian said: "We might just have found our own Charlie Kaufman in Nick Whitfield, a former stage dramatist who has made his feature-film debut, Skeletons … it's intensely and pungently English, eccentric, strangely heartfelt, and very funny. Balancing oddity and fantasy with real emotions and pain is a difficult trick to pull off. Whitfield has managed it nicely … The humour is as dry as a bone." Peter Bradshaw.
LINK: The Guardian